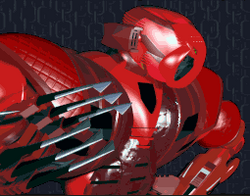 Detain is a character in the Rise of the Robots fighting game series. It is a turboguard of the Military Police, humanoid fighters, with a laser beam.
Biograpies
Rise 2: Resurrection "A turboguard of the Military Police, Detain's principle design function was to be the enforcer of the Supervisor's will upon future human subjects. The A-Virus has warped Detain's outlook so that he now mistakes other robots for human beings. when disobeyed, he employs a head-mounted freeze-laser to paralyze opponents. A second infraction provokes electrocution!"
Ad blocker interference detected!
Wikia is a free-to-use site that makes money from advertising. We have a modified experience for viewers using ad blockers

Wikia is not accessible if you've made further modifications. Remove the custom ad blocker rule(s) and the page will load as expected.