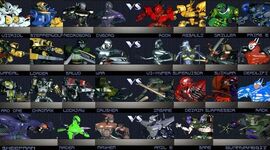 This is a list of characters from the Rise of the Robots fighting game series and the games in which they appear. Due to a large number of characters and games in the series, the list is presented in the following table. There are 30 characters listed here.
Introduced in Rise of the Robots
Introduced in Rise 2: Resurrection
Ad blocker interference detected!
Wikia is a free-to-use site that makes money from advertising. We have a modified experience for viewers using ad blockers

Wikia is not accessible if you've made further modifications. Remove the custom ad blocker rule(s) and the page will load as expected.