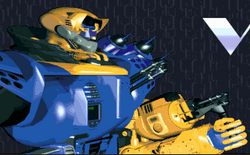 Steppenwolf is a character in the Rise of the Robots fighting game series. He is a robot likened to a tank, with heavy armor and gun-wielding, features a trap that fires bullets. Also a clone version of Steppenwolf named, Vitriol with some elements taken from Detain.
Biograpies
Rise 2: Resurrection "Steppenwolf is a mobile artillery unit designed for heavy front line combat. Weaponry includes a chest-mounted 30mm high velocity armor-piercing cannon, twin arm-mounted 35mm uranium depleted ammunition guns and duel foot blades. Like Griller, Steppenwolf is dependent on the "Smartex" A-Virus substitute. Steppenwolf is an unstable unit who believes all robots exist only for target practice."
Ad blocker interference detected!
Wikia is a free-to-use site that makes money from advertising. We have a modified experience for viewers using ad blockers

Wikia is not accessible if you've made further modifications. Remove the custom ad blocker rule(s) and the page will load as expected.